Connect Via zoom
Tuesday, May 4, 2021
5:00 - 6:00 P.M. (MDT)
NO DOZE:
The Four Leadership Styles with Lynn Petzold
Here's an opportunity to revisit or try this classic NOLS leadership styles activity for the first time! Increase your leadership self-awareness during this hour and take these four leadership concepts into your work setting to maximize your leadership or followership capacity!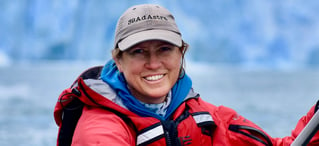 Lynn values the positive impacts that outdoor experiences can bring to individuals in their professional and personal lives. She has been a NOLS field instructor since 1994 with 330+ field weeks and has worked as an account manager for NOLS Custom Education since 2010.
She enjoys working with NOLS clients, organizations, students, and alumni in wilderness areas where people disconnect to connect. Her passion of sea kayaking links her to a variety of international coastlines. Lynn has a M.A. in Leadership and Organization Development and a B.S. in Business. She has studied and lived abroad in Bolivia, Spain, and New Zealand. She lives near Seattle, where she can easily access water and mountains.
RSVP below to receive the Zoom access link, or email us at alumni@nols.edu